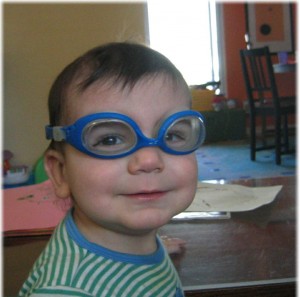 Eli will be 15 months old in about a week. He's one sweet boy with a strut that beats John Travolta in Saturday Night Fever. What's news with the little man?
After two nights of "sleep training" (crying for 1.5 hours in his crib), Eli is now a pleasure to put down to bed each night. He cries for maybe 30 seconds and then he's asleep.
He's not shy about sharing his likes or dislikes — he is adept at pushing one's hand away if you are offering him food or drink of which he does not approve. And, he's happy to lunge or point for those things that he wants, including his brother's toys.
He has an affinity for goggles. Water need not be involved.
He claps with glee.
He also rubs his hands together as if saying, "Well, what are we onto next?"
He has fun standing on low chairs, getting down when asked, giving a big grin and standing on them again. He is inclined to repeat this cycle 5-6 times for maximum pleasure.
His favorite baths are those with Henry.
His ninth tooth has come through his gums.
He waves.
He loves hanging with his Daddy, and tracks him wherever he goes.
He is hesitant to go to strangers and prefers to stick close to mom and dad in new situations.
He runs to the door every night when Mama comes home and gives her a snuggle that makes her day.